Command Digital Signage
Motorsport News
Command is actively involved in selected Motorsport Sponsorship.
Brisbane International Speedway AMCA Action Series - Naming Rights Sponsor
AMCA Car 77 - Minor Sponsor
Holden HQ Car 23 - Major Sponsor
Jason Molle wins AMCA event
Jason Molle, driving the Valley Head Services car 77 at Brisbane Raceway was the Feature Winner - Saturday, 13th December, 2015. Command is the AMCA series sponsor and a minor sponsor of car 77. Photo: Jason Molle and Richo McQuaigue, Team Owner.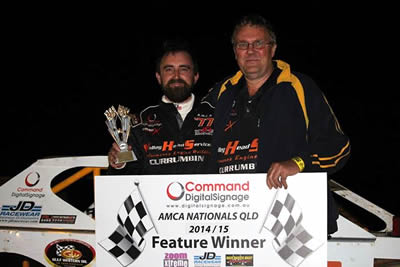 Holden HQ Car 23 - Major Sponsor 2015
Command has announced they will once again sponsor Chris Molle's Holden HQ Car for the 2015 championship rounds and the HQ Events in the Top Gear Festival at Sydney Motorsport Park, Eastern Creek, 18-19 April, 2015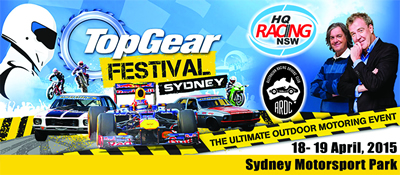 CAMS Presentation NSW HQ Racing
Chris Molle was presented with the 3rd place overall in the NSW State Championship.
After leading the points series in a very close competition, the combination of a blown gearbox and then a blown head gasket moved Chris from 1st to 3rd.
An excellent results for only the second year of racing. Photo: Brett Osborn (2nd), John Baxter (1st), Chris Molle (3rd) at the CAMS presentation.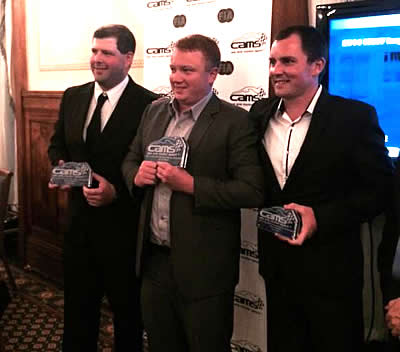 AMCA Action Series Naming Rights Sponsor
We are happy to announce that Command Digital Signage have committed to a second season as naming rights sponsors for the Brisbane International Speedway AMCA Action Series!

HOLDEN HQ Race Series NSW - Car 23 - 2014
Command is once again the major sponsor of Chris Molle's No. 23 car in the Holden HQ NSW Race Series.