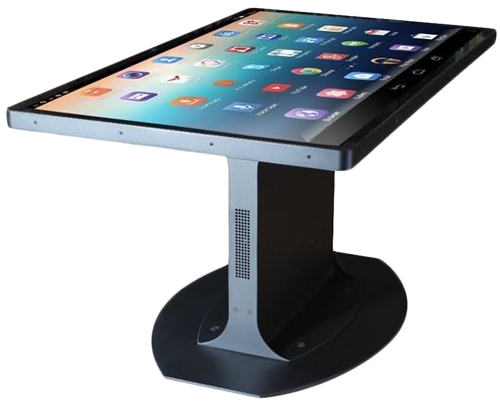 Interactive Touch Tables
Innovative tabletop designs integrate multi-touch technology perfectly to learn, work or play
Command's T-Series multi-touch interactive tables successfully bring education, commerce, information, and entertainment into a whole new era of multi-touch technology.
T-Series interactive tables integrate modern touch screen technology into a range of "coffee table" styles, designed to complement the interior design of your office, showroom, or education center, while providing entertainment and information services.
With support for multi-touch functionality, T-Series tables and can be operated by multiple users interactively, allowing up to 40 individual touch points at any time. This allows users to manipulate media such as photos scattered on the desktop, all at the same time, with the ability to enlarge, shrink, and drag media as required. A variety of different applications such as Google Earth, videos, music software, and game software such as puzzles or virtual piano can be brought into full play through Command's multi-touch interactive tables.
Each unit features tempered glass covering, preventing scratches on the surface of the screen, and have anti-dust, waterproof and heat radiation capability. The units are also equipped with built-in speakers and input/output sources for PC or AV add-ons.
T-Series interactive tables are available in a varierty of screens sizes from 22" up to 65", and include built-in PC hardware, which can be specified to suit any application.
Applications
Interactive information, teaching, meeting, and entertainment.
School, shopping center, kindergarten, recreational facility, intelligent home, bank, insurance company, and chain store.
Entertainment facility, telecommunication company, mobile communication, showroom, automotive showroom, hypermarket, cinema, airport, television station.
Museum, community, showroom, real estate office, property showroom, hotel, office
Multimedia classroom, travel agency, public office, military office, hospital, energy and power company, conference room, and KTVs
Need more information?
For any questions about how a Command Digital Signage System would be suitable for your business or to arrange a time for an on-site or on-line demonstration, please contact us on 1300 780 204 or through our enquiry form.
Command products and solutions are also available through your local AV and IT professionals.