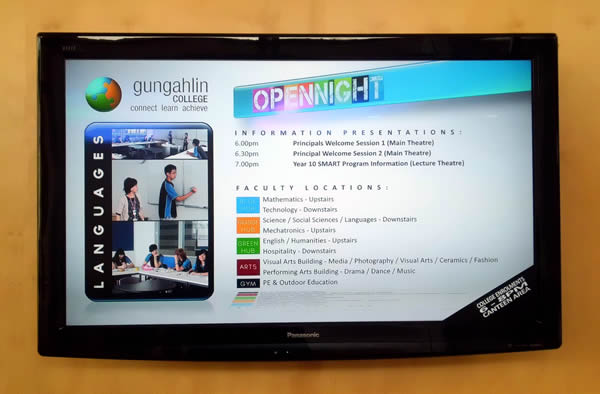 Digital Signage in Education
Staff, Student and Visitor Information Displays
Communicating with a large number of students and staff can be a difficult task.
With the use of Digital Information Boards, either in a single location at your School or across a whole Campus, your message can now be updated with ease.
Digital Signage in Education is suitable for all education faciliites including:
Pre-school - as a Staff and Parent information board;
Primary School - for Staff and Parent information boards;
High School - for Staff, Student, Parent and Visitor information boards;
University, Colleges and TAFE - as a complete solution for Information Displays, Directional Signs, Meeting Information, Room Entry Displays, Digital Menu Boards and Wayfinding Displays for large campses..

FOYER ENTRY SIGNS
The foyer entry signs are an ideal way of displaying information to visitors at the school. Usually located in the administration area, the screens can display school information and successes, P&C meeting information, student artworks and many other types of information suitable for visitors and parents to see.
GENERAL INFORMATION
Whether located in the Staff Rooms, Library or General areas, these LCDs are the ideal Digital Noticeboard, displaying information to Staff, Students and Visitors to keep them informed of all school events and general Staff information.
The Navori digital signage software system supports a large range of media files and has built-in user controls to limit who accesses what screens, down to what area of a screen the user has permission to update.
OUTDOOR LCD AND LED DISPLAYS
These secure displays allow you to install your information screen outdoors. The LCD range in sizes from 32" to 64" and are sunlight readable.
The LED displays are very effective as a single scrolling line.

LED SCHOOL INFO BOARDS
An LED placed outside the school is an ideal way of communicating with Students and Parents. The information can be updated and then sent to the large LED displays.
Available as a single colour or in full colour.
Ideal for:
Coming events;
Campus notices;
Transport details;
Facility Directions and Information;
Course information;
Classroom and Lecture schedules;
Activity announcements;
Library details;
Welcome screens;
Last minute announcements;
Our solutions include:
Digital Signage Software
Media Players and Digital Signage Engines
LCD, LED and On-Glass Projection Systems
Installation and Support Services
Specialist fabrication and parts
Affordable, entry level Digital Signage to fully managed corporate solutions.
Network ready & Scaleable for larger solutions
Playback Pictures, Movies and Music in High Definition
Easy to use management
Create Playlists and Scheduled Playback
Remote Management, Multiple Display Zones, News Ticker.
Navori Digital Signage Software
Command is the South Pacific Distributor of Navori Digital Signage Software.
Navori is a leading digital signage software that is setting a new standard for Content Management, Delivery and Playback.
Robust and reliable, suitable for the single user or Enterprise Installation.
Navori QL Video Overview
Navori QL Digital Signage Software Overview - Select here.
Need more information?
For any questions about how a Command Digital Signage System would be suitable for your business or to arrange a time for an on-site or on-line demonstration, please contact us on 1300 780 204 or through our enquiry form.
Command products and solutions are also available through your local AV and IT professionals.