Audio Player
Supports SD(HC) memory card and USB flash driver.
Supports one audio output for connecting to your speakers.
Network: RJ-45 10/100 Mbps Ethernet port.
802.11 b/ g/ n wireless (optional)
Supports Upload Contents, Playback Control and Schedule Playlists functions via the web page.
Power: DC5V/ 2A.
Dimension (L/W/H): 186 x 74 x 26 mm
Playback Options
Upload Content: Upload the latest audio files (such as background music, advertisements, promotional messages or announcements through a network.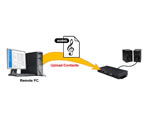 Playback Control: Directly control the audio file playback (play/ pause/ stop) via the web page of the Audio Server.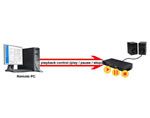 Schedule Playlists: Set the files to play in and ordered list.