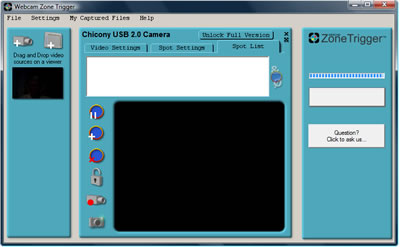 MDS Motion Detection Software
Realtime Motion Detection Software
Imagine...
activating a media file based on movement in front of your shop; or
activating a media file based on the changing of a traffic light; or
activating a media file when someone walks in to a room, exhibition space or office.
MDS allows you to do all of this.
When combined with a web camera, the MDS software will pick up any movement or changes in the environment.
This can be combined with digital signage software, such as Navori, to activate specific media files when changes occur. Then, after a period of time, the system returns back to your standard digital signage messaging.
This is a form of direct marketing to customers. Instead of seeing a movie file part way through the presentation, the media file is activated as soon as the customer is within viewing distance.
The MDS system is also capable of recognising changes to traffic light conditions. When the traffic is stopped because of a red light, the system will display advertising, however, when the light is green, there is nothing displayed so there is no distraction to drivers.
For each motion detecting Hot Spot, you can choose from a wide range of actions that MDS will perform. Taking pictures, recording video, playing sounds, executing commands on the computer... only a click away.
The software will work with any video capture device including:
Webcam
DV camcorders
TV-Tuners
USB video capture devices
IP Cams or URLs (JPEG images)
Video Files
Screen Capture
Digital Cameras*  (requires third party software)
Zone Trigger can do anything!
Movement Detection Software Trial
Select here for the Movement Detection Software trial download.
Need more information?
For any questions about how a Command Digital Signage System would be suitable for your business or to arrange a time for an on-site or on-line demonstration, please contact us on 1300 780 204 or through our enquiry form.
Command products and solutions are also available through your local AV and IT professionals.