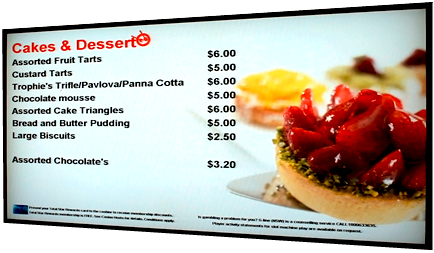 Digital Menu Boards
Instant Updates and Daily Specials
Digital Signage is the ideal platform for Menu Board displays.
Consider updating a menu and within seconds the new prices are displayed on the screen.
Or, you have a product that needs to be moved - promote the product directly on your menu board.
Or, automatically schedule your menu board to change for Breakfast, Lunch to Dinner services without needing to lift a finger.
A digital menu board can be created with 32", 40/42", 46/47" or larger LCD displays and can be a single LCD or multi-screen system.
The content is updated from a single location and can be published immediately and prepared ahead of time.
A menu board can be located outside, at the entrance or within a restaurant or fast-food takeaway area.
A cafe screen could include digital TV as well as the menu board to provide entertainment for your customers.
Multi-site customers are supported with the management of the system from your head office.
Critical menu displays can include built-in redundancy.
Command will provide your company with a system suitable to your environment and your required outcomes.
Need more information?
For any questions about how a Command Digital Signage System would be suitable for your business or to arrange a time for an on-site or on-line demonstration, please contact us on 1300 780 204 or through our enquiry form.
Command products and solutions are also available through your local AV and IT professionals.
Features
Benefits
Gallery
Digital Menu Board Features
Template Based Display Information
Easy to use interface
User Management controls
User Access levels
Manage 1 or 100 of displays
Enterprise level or Entry level
Automated menus from POS systems
Rotating image control
Supports all screen sizes
Digital Menu Board Benefits
Enter new prices at any time - don't wait on the printers or sign makers
Instant updates - change prices instantly
Automatic update of prices reduces labour costs
Ease of use - low maintenance costs
Single or multiple location administration for managed updates