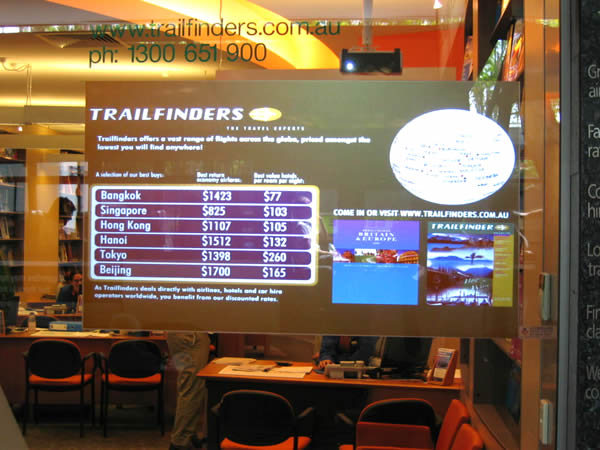 Digital Signage for Small Business
Product Promotions and Customer Relation Displays
Digital Signage is a very flexible alternative for the promotion of your products either in-store or in your showroom.
Small Business doesn't have the time to spend hours on the creation of graphics, printing, delivery and then hanging of posters.
Digital Signage is a very flexible alternative, allowing the user to make changes, update pricing, change images and effectively distribute the content to one or many screens within a short period of time.
The result is a modern effective display with current content and promotions that are relative to your business.
Command has solutions for:
Retail, Take-away, Cafes, Manufacturing, Distribution, Services, Trades - any type of business is suitable for digital signage for the easy display of your information.
Our solutions include:
• Digital Signage Software
• Media Players and Digital Signage Engines
• LCD, LED and On-Glass Projection Systems
• Installation and Support Services
• Specialist fabrication and parts
• Affordable, entry level Digital Signage to fully managed corporate solutions.
• Network ready & Scaleable for larger solutions
• Playback Pictures, Movies and Music in High Definition
• Easy to use management
• Create Playlists and Scheduled Playback
• Remote Management, Multiple Display Zones, News Ticker.
Navori Digital Signage Software
Command is the South Pacific Distributor of Navori Digital Signage Software.
Navori is a leading digital signage software that is setting a new standard for Content Management, Delivery and Playback.
Robust and reliable, suitable for the single user or Enterprise Installation.
Navori QL Video Overview
Navori QL Digital Signage Software Overview - Select here.
Need more information?
For any questions about how a Command Digital Signage System would be suitable for your business or to arrange a time for an on-site or on-line demonstration, please contact us on 1300 780 204 or through our enquiry form.
Command products and solutions are also available through your local AV and IT professionals.