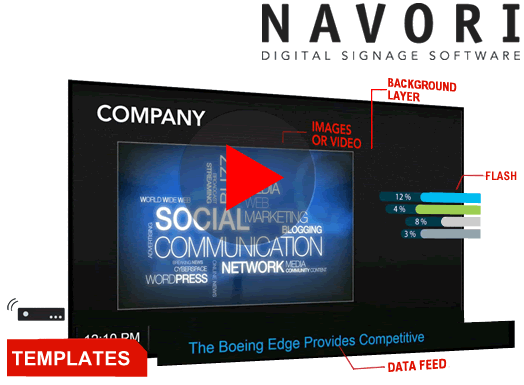 Navori QL
2nd Generation - A Quantum Leap.
Navori has been a global leader in Digital Signage for the past 14 years, with over 75,000 player licences deployed in 90 countries. Through dedication to resource and development in the Digital Signage industry, Navori continue to set the standard in Digital Signage Software development.
Navori QL is the next generation in Digital Signage Software, boasting over 300 features, of which 75 are unique to Navori.
Navori's success is contributed not only to their powerful server software and their ground breaking proprietary player and graphic rendering engine, but in their ability to bring all this together into an easy to learn, simple to use, yet extremely powerful, multi platform management interface.
Navori QL is Digital Signage made easy!
The Navori digitals signage software platform is used for all types of screen based communications: Advertising networks, retail applications, corporate communications, public space signage, wayfinding, fast food menu boards and more, and offers fast and scalable deployment from 1 to 1,000's of screens.
Navori - Enterprise Level Software
Navori is suitable for Enterprise installations. A robust, expandable system with full features and reliability required for Enterprise Level installation.
A Navori system can manage a single site or hundreds of sites locally or worldwide.
As a system suitable for Enterprice Level digital signage installations, Navori is the one to choose.
Navori QL Video Overviews
Navori QL Digital Signage Software Overview. Select to view.
Navori QL Manager Overview. Select to view.
Navori QL Player Overview. Select to view.
Navori QL Normal Day to Day Operation. Select to view.
Navori Stix. Select to view.
For more Navori QL videos, Select to view.
Navori Brochures
Navori QL Manager Brochure. Select to download.

Navori QL Player Brochure. Select to download.

Navori QL Player Modules Brochure. Select to download.
Navori Trial
Navori markets its software in two ways: Self hosted licenses that you purchase and own or software-as-a-service (SAAS).
Navori provides a 10 day trial using their SAAS service. This will let you fully experience the Navori software with a minimal amount of installation and configuration.
Should you require a self-hosted trial version to test Navori QL Server on your own equipment, or require further information, please contact us on 1300 780 204 or through our enquiry form.
Contact Command for your local reseller details today.
Modules
Hosting Options
Features
Applications
> Navori QL Server
Powerful easy to manage system.
> Navori QL Manager
Multiple User Management with easy to select User Access Levels.
> Navori QL Player
The worlds most advanced Second Generation Player Software
| | |
| --- | --- |
| Intuitive, easy to use Interface | Control 1 to 1000's of players Seamlessly |
| Advanced Player Management | Online Content, Data Feed and Template Designer |
| Drag and Drop Play list Control | Multiple Content Libraries |
| Player Specific Content | Multiple Content Libraries |
| Advanced Multi User Capabilities | Exclusive Proprietary Graphic Engine |
| Real Time Player Monitoring | Playback Reports |
| Scheduled Playback down to the second | Play Triggered On-Demand Content |
| Full Multi Screen Support | Multiple Display Zones |
| Multi Layer Support | Playback precise to 1/30th of a second |
| Multi Platform Management | Supports all Popular Media Formats |
| Hardware Optimization to minimise your investment | "A la carte Pricing" Only buy the features you need |
| | |
| --- | --- |
| Retail Point of Sale | Restaurants |
| Government | Mining |
| Manufacturing | Education |
| Corporate Internal Communications | Banks & Financial Institutions |
| Hospitality & Entertainment | Airports |
| Transport Hubs | Hospitals & Medical Facilities |
| Advertising Agencies | Digital Signage Service Providers |