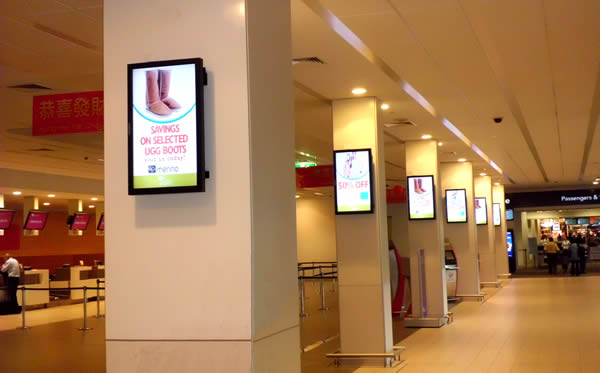 Digital Signage for Airports and Airport Lounges
Flight Information Display
Wayfinding
Retail Advertising
Security Information
Customer Entertainment
Navori Digital Signage Software is the ideal solution for the varied requirements of an airport. Through a single system, Airports can manages FIDS, security displays, promotional displays, customs and flight information. A digital signage system can also manage the entertainment for those waiting on flights.
Retail concession displays can be managed through the Navori system.
The results of using a Command Digital Signage System with Navori Software is that the Airport and Airport Lounges receive a quality system with quality output - the type of systems expected in todays environment.
Our solutions include:
• Digital Signage Software
• Media Players and Digital Signage Engines
• LCD, LED and On-Glass Projection Systems
• Installation and Support Services
• Specialist fabrication and parts
• Affordable, entry level Digital Signage to fully managed enterprise solutions.
• Network ready & Scaleable for larger solutions
• Playback Pictures, Movies and Music in High Definition
• Import data for FIDS
• Easy to use management
• Create Playlists and Scheduled Playback
• Remote Management, Multiple Display Zones, News Ticker.
Navori Digital Signage Software
Command is the South Pacific Distributor of Navori Digital Signage Software.
Navori is a leading digital signage software that is setting a new standard for Content Management, Delivery and Playback.
Robust and reliable, suitable for the single user or Enterprise Installation.
Navori QL Video Overview
Navori QL Digital Signage Software Overview - Select here.
Need more information?
For any questions about how a Command Digital Signage System would be suitable for your business or to arrange a time for an on-site or on-line demonstration, please contact us on 1300 780 204 or through our enquiry form.
Command products and solutions are also available through your local AV and IT professionals.