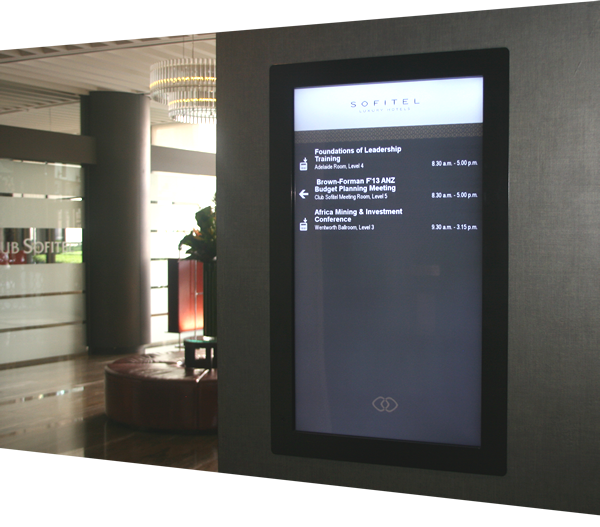 Conference and Convention Centre Digital Signage
Inform and Direct your Vistors to the right location
A conference and convention centre is the ideal venue for digital signage, providing your visitors with directional information, event information and centre information..
Command's digital signage and wayfinding systems provide an efficient method of providing the right information for thousands of visitors.
With the many varied areas that make up a conference centre, Command provides the following options with our Navori digital signage software and Interactive2 Wayfinding software:
DIRECTIONAL DISPLAYS
With large converence centres, the controlled movemement of people is virtal.
Displays can be individually controlled to provide directional information.
This could include:
Lobby display screens with a summary of events and directional arrows;
Room entry displays with corporate or event information;
Wayfinding screens with directional arrows that are located around the venue.
WAYFINDING
Wayfinding screens can be located at key locations for the directional assistance to visitors.
The off-the-shelf software has the flexibility to design the path layouts and generate the quickest path to the location selected.
Each kiosk has its own wayfinding software plans and mapping, but each has its own individual "You Are Here" points. Easy to use for fast deployment.
The system determines the best route from that location and supports multiple venues, multiple levels and can even direct outside of the conference centre.
A wayfinding system can be used for both the conference centre and the internal event, directing visitors to stand locations.
DIGITAL MENU BOARDS
Every conference centre has a food outlet area.
The Navori QL system displays and controls content and displays digital menu board content with ease.
Need to change pricing - not a problem. Open Navori's Data Feed Manager and make the change in seconds..

ADVERTISING
With all these displays, advertising can be incorporated with statistics information retrieved from the system, such as Where, When and How Often did the ads display.
The system will then allow the generation of reports which can then be exported to a booking or invoicing system..
BLUETOOTH, SMS SUPPORT AND QR TAGS FOR USER INTERACTION
SMS advertising is supported by sending out an SMS signal in conjunction with a displayed media file.
For example, a pizza advertisment is displayed, at the same time, someone within a 15 metre radius is sent a Bluetooth signal allowing them to receive a coupon that they can then present to the outlet;
Users can send an SMS to a server, the SMS is then published to the screens;
A section of a display could display Twitter feeds for user feedback.
A QR Tag can be displayed on the screens – users can scan the code with their mobile phone to receive access to more information.
EXTERNAL FEED ACTIVATION
Navori includes a Trigger SDK.
This allows the development of any type of application to activate a media file or even a play list.
As an example, when a player scores a try, a trigger could activate the profile o the player which is then displayed on the IPTV system.
HARDWARE
LCD
Navori supports LCD and Plasma displays of any brand.
LED
Navori supports the input to large scale LED displays typically seen around stadiums..

ACCESS FROM ANYWHERE
The Navori interface can now be accessed through an advanced interface in Internet Explorer.
Multiple users can access the system to manage the system and events.
Instant updates can be sent to all screens at any time.
The system also supports user management where a user can be assigned to a single group, a single screen or even a single zone on a screen.
Navori Digital Signage Software
Command is the South Pacific Distributor of Navori Digital Signage Software.
Navori is a leading digital signage software that is setting a new standard for Content Management, Delivery and Playback.
Robust and reliable, suitable for the single user or Enterprise Installation.
Navori QL Video Overview
Navori QL Digital Signage Software Overview - Select here.
Need more information?
For any questions about how a Command Digital Signage System would be suitable for your business or to arrange a time for an on-site or on-line demonstration, please contact us on 1300 780 204 or through our enquiry form.
Command products and solutions are also available through your local AV and IT professionals.