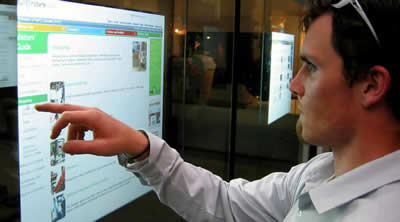 TouchVU
Interactive Touch Foil
TouchVu is an interactive membrane that enables your target audience to access information from your shop front window.
Use the 'WOW' effect to grab the attention of your customers, promoting your business and providing up to date information, during and after business hours.
Using your finger as the 'mouse pointer', the "Touch Function" allows customers to seamlessly interact with your displayed content, whether it be your web site, directory information or accessing catalogue and pricing information. All this is at the tip of your fingers. "Touch and Drag- Function" is also available for slide show applications or to move objects around the page.
TouchVu interactive foil can be utilised for use with LCD screens or On-Glass Rear Projection film. (up to 100" 16:9).
The adhesive film is applied to a piece of transparent glass, acrylic panel or straight onto your shop front window. With the TouchVu Foil and display device behind the glass or acrylic, the user is at no time in direct contact with the sensor, therefore eliminating possibilty of damage through misuse.
TouchVu can also be built into stand alone kiosk unit applications for use in-store.
TouchVu is not affected by light and can be used in any lighting environment.
Applications
Retail Stores, Corporate Entries, Internal Communication, Production Lines, Exhibitions. Special Effects, Kiosks.
Suitable for On-glass Projection or LCD displays.
Standard Definition Players
Format
Interactive Touch Screen Technology for Through Window applications, i.e. fitted to an existing window.
Detection Method
Projected Capacitance technology using horizontal and vertical wires
Available Sizes
Sizes range from 30" to 167" diagonal in 4:3, 16:9 and 21:9 ratios*
610x460mm to maximum size of 3985mm x 1460mm
(*Sizes not available in all ratios)
Fixing Options
Removable and permanent options available.
Position Accuracy
Approximately 3mm absolute, 1mm relative. No drift.
Alignment
Software divers provide a calibration facility.
Sensitivity
Can be programmed for different glass thickness. Single construction glass 16mm thick, Double glazing option available up to 25mm. (In Double Glazing mode we recommend only use the Touch function not the Touch and Drag function)
Speed of Response
Depends upon glass thickness. Typically 50 to 10ms.
Output
USB or RS232C communications to a 9 pin D female.
Software Compatibility
Drivers are available for Windows Operating Systems.
Temperature Range
Better than -10 to 70 ºC.
Humidity Controller
0% to 95%. Unaffected by condensation.
Light Transmission
Depends upon glass thickness, usually better than 85%.