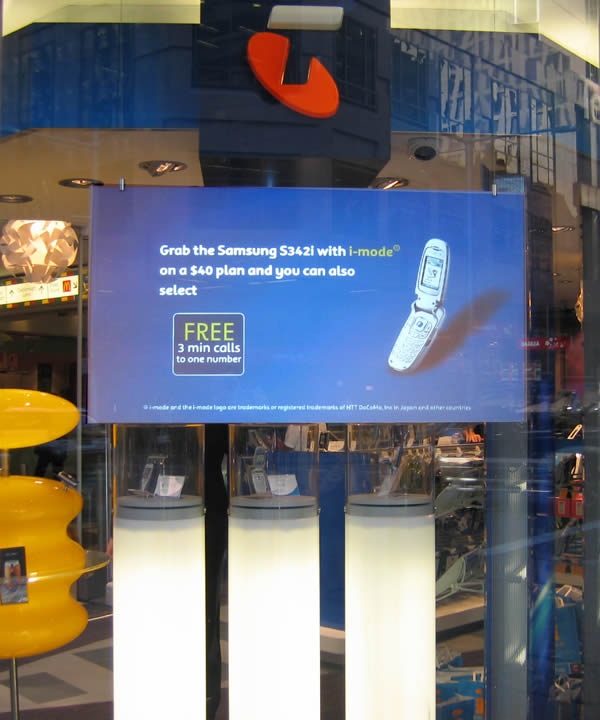 Digital Signage for Retail
Update your Promotional Advertising within seconds
Retail is the ideal vehicle for a digital signage solution.
Screens are available for a wide variety of locations including screens starting at 5" diagonal to 82" and larger video walls containing multiple screens and configurations.
For the ultimate in visual presentation, an on-glass projection system or interactive glass is the ideal selection.
A retail digital signage systems can support locations from 1 to thousands if required - all managed from a single location.
Conventional signage can be expensive and the creation and distribution can take much planning and along delivery process.
Digital Signage overcomes many of the process methods of convention signage and the deployment of new marketing material and POS media can take seconds to update.
Imagine selling out of a promoted product and then changing the signage to promote the sale of a new product - within minutes.
The group control methods allows the updating of multiple screens with the same content an easy process.
The Navori administration software is an advanced user interface successfully developed for rapid updating and management.
Our solutions include:
• Affordable, entry level Digital Signage to Advanced fully managed systems
• Playback Pictures, Movies and Music in High Definition
• Easy to use management
• Create Playlists and Scheduled Playback
• Network ready & Scaleable for larger solutions
• Remote Management, Multiple Display Zones, Scrolling Ticker.
Navori Digital Signage Software
Command is the South Pacific Distributor of Navori Digital Signage Software.
Navori is a leading digital signage software that is setting a new standard for Content Management, Delivery and Playback.
Robust and reliable, suitable for the single user or Enterprise Installation.
Navori QL Video Overview
Navori QL Digital Signage Software Overview - Select here.
Need more information?
For any questions about how a Command Digital Signage System would be suitable for your business or to arrange a time for an on-site or on-line demonstration, please contact us on 1300 780 204 or through our enquiry form.
Command products and solutions are also available through your local AV and IT professionals.