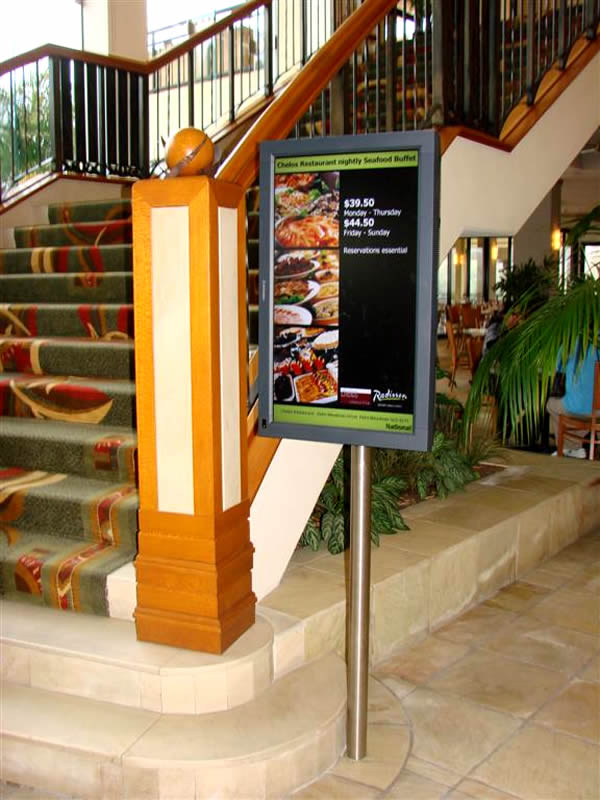 Digital Signage for Hotels
Information Displays, Conference Room Entry and Wayfinding
Customer relationship is key in the hotel industry. Some of a hotel's responsibility is to provide information for their customers including hotel details, conference information, dining information and local tourist areas to visit.
Command's digital signage and wayfinding systems provide an efficient method of providing the right information to your hotels visitors.
ROOMMANAGER CONFERENCE ROOM SIGNAGE
RoomManager is an easy-to-use conference and meeting room management and LCD display system.
Say goodbye to the old letter boards and pieces of paper at the front of the room, RoomManager will display client information in your foyer or at the entry to the conference or meeting room all easily managed through one easy-to-use application.
A user can enter client data and logos, room information such as the time of the event and the automated template system will generate the screen displays for you.
Directional screens will get your visitors to the event in a timely manner.
WAYFINDING
Wayfinding screens are used to provide turn-by-turn directional information for hotel locations or provide details of external visitor information.
The flexible wayfinding software is easy to use for the visitor and for the administrator.
Change and updates can be made at any time.

RESTAURANT DIGITAL MENU BOARDS
The digital menu board is an ideal method of promoting your restaurant and displaying the menu to your visitors.
The menu boards can be located within your restaurants or outside for the passing traffic.

ADVERTISING & PROMOTION
Promoting other locations within your chain of hotels allows you to on-sell your business and promote further options for the traveller.
ACCESS FROM ANYWHERE
The Navori interface can now be accessed through an advanced interface in Internet Explorer.
Multiple users can access the system to manage the system and events.
Instant updates can be sent to all screens at any time.
The system also supports user management where a user can be assigned to a single group, a single screen or even a single zone on a screen.
Navori Digital Signage Software
Command is the South Pacific Distributor of Navori Digital Signage Software.
Navori is a leading digital signage software that is setting a new standard for Content Management, Delivery and Playback.
Robust and reliable, suitable for the single user or Enterprise Installation.
Navori QL Video Overview
Navori QL Digital Signage Software Overview - Select here.
Need more information?
For any questions about how a Command Digital Signage System would be suitable for your business or to arrange a time for an on-site or on-line demonstration, please contact us on 1300 780 204 or through our enquiry form.
Command products and solutions are also available through your local AV and IT professionals.