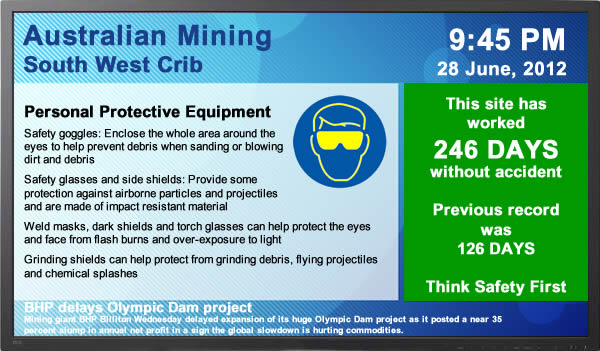 Digital Signage for the Mining Industry
Safety is the priority
Mining is a well run industry with a lot of emphasis put on safety.
Digital Signage and Internal Communication assists in the dissemination of information to all staff at the mine site.
Command digital signage solutions can be installed inside and outdoors in locations such as Administration areas, Meeting Rooms, General Access Areas, Training Rooms, Security, Crib and Camp areas.
The system can be managed by a single person or department or spread across multiple departments for the purpose of updating information to various sites.
With the built-in User Access Controls, Navori digital signage software can restrict users to accessing a single screen or a zone on a screen.
The multi level of access allows the display of concurrent playlists which could be managed at a Corporate Level, Department Level and Local Level, combining all media files automatically on output.
Digital Signage is the ideal platform for internal communications, OH&S Training, Security Messaging, Production Messaging, Alert Messages and General Information.
The continuous eye-catching movement helps in reaffirming company policies and safety messages.
Our solutions include:
• Digital Signage Software
• Media Players and Digital Signage Engines
• LCD, LED and On-Glass Projection Systems
• Installation and Support Services
• Specialist fabrication and parts
• Affordable, entry level Digital Signage to fully managed corporate solutions.
• Network ready & Scaleable for larger solutions
• Playback Pictures, Movies and Music in High Definition
• Easy to use management
• Create Playlists and Scheduled Playback
• Remote Management, Multiple Display Zones, News Ticker.
Navori Digital Signage Software
Command is the South Pacific Distributor of Navori Digital Signage Software.
Navori is a leading digital signage software that is setting a new standard for Content Management, Delivery and Playback.
Robust and reliable, suitable for the single user or Enterprise Installation.
Navori QL Video Overview
Navori QL Digital Signage Software Overview - Select here.
Need more information?
For any questions about how a Command Digital Signage System would be suitable for your business or to arrange a time for an on-site or on-line demonstration, please contact us on 1300 780 204 or through our enquiry form.
Command products and solutions are also available through your local AV and IT professionals.